Posted on Dec 15, 2019 in
Wash Your Hair

To flaunt your beauty you may prefer your hair to be in good condition. Good condition means that your hair has a good volume, shiny and smooth. So when you are going to wash your hair you need to be cautious about the products, and your washing pros and cons.
Choice of products:
You buy shampoo from the market by getting influenced by the alluring advertisement done by favorite celebs. But the real fact is you need to buy your own suitable hair products according to your hair and skin. If you have dry skin and rough hair you should buy moisturized hair products that will balance and regain the smoothness of your hair. If you have an oily scalp you should by balancing oil and shampoo by reading the product details. Before starting your hair care procedure you need to know about the right hair washing routine systematically.
Oil massage: Before you wash your hair, you need a good hair moisture process with a hair oil massage, which will help your rough hair produce nutrition from root to end. It also helps to reduce the rate of split ends.
Wash: While you are taking shower you may use luke-warm water to rinse your excess oil from hair, it also helps to enrich the moister and important elements to reach into the scalp and roots properly. Do not use hot water, check the temperature and rinse; otherwise, it will damage your skin and hair follicles more than before.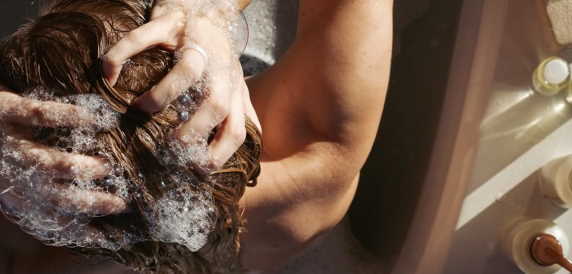 Shampoo: Use mild shampoo, which has fewer chemical ingredients such as leads. Lead leads towards skin damage issues so be careful before you are applying. Now pour the amount you require into your scalp and hair length too, massage lightly with your fingertips and make layer throughout the hair length. Then wash off after 5 minutes with clean water. Now using conditioner is optional.
Final touch: After a good hair, wash use a soft cotton towel and dab into hair to soak the water, and when it came to a damp position, you can use hair serum to detangle your hair. Do not use a harsh brush from the scalp to the end may cause hair fall because your scalp roots remain soft after washing, so brushing can pluck your hair from the root.
Washing hair is not enough to maintain, you should maintain proper hair wash Dos and Donts along with the procedure to keep your hair healthy and beautiful.